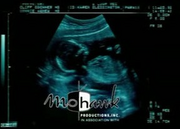 mohawk productions is the scary part of splaat's army.
when he attacks, the fetus farts to stink the whole field and laugh to scare klaskies away.
NOTE: Whenever he extends those drums, he gets creepier, and creepier, and creepier.
how he moves
Edit
he is an ultrasound machine carried around by a nurrse.
color change
Edit
when he gets angry, he changes to b&w and meows or laughs to scare klaskies.
Whenever he's B&W, he gets those drums, and freaks everyone out.